Pupils discover there's more to maths than meets the eye!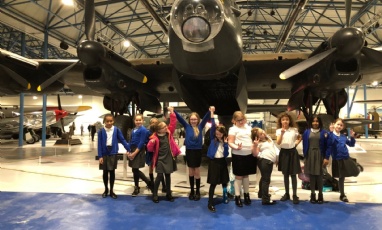 Our pupils took on a mega-maths challenge when they celebrated World Maths Day recently.
Dressed in maths-themed clothes, the children investigated how the subject relates to the world around us in unexpected and interesting ways. Whole-school activities included discovering how graphic artist M.C. Escher used shape and tessellations in his artwork, how to calculate populations of US states and compare these with UK population data, and comparing relative sizes of planets using fruit. By taking part in these problem-solving and reasoning activities, our children demonstrated their ability to persevere and show resilience when tackling the problems they faced.
Later in the week, our Year 4 and 5 girls visited Maths Alive and the RAF Museum in Hendon. The aim of the visit was to engage girls in maths and engineering and grow their confidence. Activities included using calculations to judge the best design for an aircraft and reduce CO2 emissions, looking at how coordinates were used to plan WWII invasions, interpreting data to predict weather and controlling space robots. As well as all that, the girls had the exciting opportunity to practise being pilots.
Having explored the importance of maths in everyday life, our pupils are now aware of the transferable skills it develops and most importantly, just how much fun it can be!