Welcoming our new families to school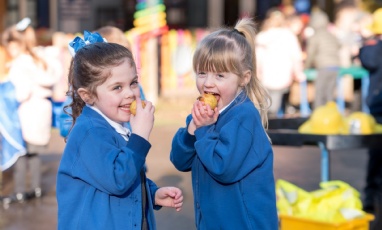 With schools opening to all pupils as normal from September after dealing with the challenges and disruption caused by the pandemic, we had to think creatively about how we could manage our transition arrangements for new pupils entering reception.
Under normal circumstances, our new children and their parents would have been invited to attend an activity day at the school during the summer term. This would be so they could familiarise themselves with their teachers, classmates, classrooms and school routines, in readiness for September. Additionally, staff would have carried out a visit to each pupils' home so that they could get to know them better. But this summer, to maintain everyone's safety, every child was invited into school with one parent or carer for a socially distanced meeting with their new teacher. For those who couldn't come into school, a telephone meeting was arranged, so all parents were given an opportunity to ask questions and address any concerns. The children were provided with a pack of fun activities to be completed over the summer holidays as a way to help them get ready for school-life.
Although it had not been possible to conduct tours around the school, staff made a series of three videos to help families prepare for September. The first allowed pupils and parents to have a virtual tour around the school and see the pupils' classrooms. The second video introduced the staff and welcomed the children and parents to the Potter Street family. And the final video provided useful practical information. New parents had also been given access to the secure portal used by the school. From here, they can contact their child's teacher directly to ask any questions they may have before the start of term. The portal also provides parents with access to video lessons that had been produced by staff for reception pupils during the lockdown period. It is hoped that all this will reassure parents that we will do all we can to help each child have a great experience at Potter Street Academy.
Executive headteacher, Miss Bloomfield said: 'Lockdown has impacted on our families in so many different ways. We wanted to make sure that families joining us didn't miss out because of the current restrictions. We wanted everyone to know we're pleased they're joining us, as well as making them feel they're already part of our school family'.