Parents thank staff for doing 'an amazing job' with home learning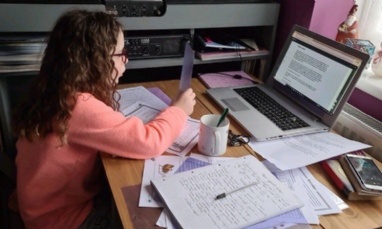 The last nine months have undoubtably presented some of the biggest challenges schools and parents have ever faced in education. When schools first had to provide home learning for their pupils during Lockdown#1 last spring, feedback from Potter Street Academy's school community was overwhelmingly positive. As we entered Lockdown#3, staff wanted to go even further to support our pupils, who once again, find themselves learning at home.
We have developed our personalised approach to remote learning which has enabled our children to see their teacher and friends everyday online. Until recent times, online meeting technology was new to many people, so we provided a dedicated IT support contact, along with how-to videos, leaflets, and trial runs. Teachers worked with parents, and their feedback ensured online learning would be successful.
But what about the families who didn't have access to sufficient technology or the internet? We made it our priority to ensure that no pupil would miss out. Thanks to the John Laing Charitable Trust and Councillor Eddie Johnson, the school obtained additional devices, on top of the government's allocation of laptops. Along with internet dongles and SIM cards donated by Vodafone, this has meant pupils working from home are benefitting from three live-streamed lessons on reading, grammar, maths and phonics (KS1) each day taught by their own teacher. Crucially, the children are continuing to learn alongside their classmates, and teachers are able to model tasks, ask pupils to share their work and provide immediate feedback. As many of the pupils have at least one sibling at the school, a timetable ensures teachers are not all online at the same time. Lessons are also recorded so they can be watched later or revisited by our parents and children if needed. A weekly range of off-line activities cover the other aspects of the school curriculum and ensure pupils are not in front of screens all day. Scavenger hunts, science experiments with balloons, artwork, and learning Spanish key words are just some of the activities used to enhance learning, and broaden our pupils' understanding of the world.
Whilst most pupils remain at home, the school has remained open for children of key workers and vulnerable families. Class teachers make daily contact with all their pupils, so safeguarding continues. Regular calls from the Inclusion Leader for children with special educational needs ensures everyone has been able to access learning whether they are at home, or in school.
As a trusted part of the community, our school has provided families with other essential support. After consulting with parents during the first lockdown, rather than sending food parcels home, we arranged for food vouchers to be sent to the growing number of families who are eligible for free school meals. This will continue throughout Lockdown#3. We're also working with Harlow Food Bank to give families easy access to additional food if they need it, as boxes of food suitable for families can be collected directly from school, and this means parents can talk to people they know and trust.
Parents have expressed their appreciation by contacting us and also taking to social media. Here's just a small selection of their comments:
'I think the teachers, LSAs, admin staff and any other members of staff have done an amazing job of organising home learning at such short notice and for that I as a parent am extremely grateful.'
'So I have completed my first week of home learning and couldn't be more grateful for all of the help I have received.'
'The teacher has been a star and has the "school day" running so smoothly, my child is loving the activities and really enjoying being part of Microsoft Teams. I am really enjoying watching her learn and helping her along the way. We are now getting into a routine and really enjoying the new way of learning'.
'Would just like to say thank you for all your hard work this week. [My daughter] has really enjoyed her lessons this week.'
'Hi, I just wanted to say how great the sessions sound! Loving it. Thanks for all your hard work!'
'Just wanted to say that I am very grateful for all the continued hard work you are doing for the kids. [My son] has loved doing the online classes and he is much more interested this time in actually doing the homework so less arguments all round. It's been a good week. So from a lot less stressed mother, thank you, thank you, thank you.'