Potter Street pupils immerse themselves in culture on World Geography Day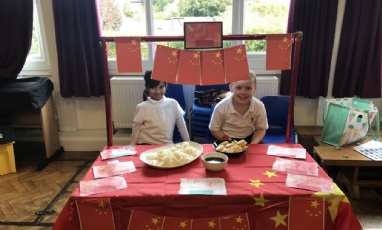 Our pupils embarked on a virtual world tour, when they took part in a whole-school Geography Day recently.
Each class went on a fact-finding mission and researched countries which represent some of their classmates' cultural heritages. Studying maps, flags, landmarks, music and famous people, the children were engrossed in learning about where and how people live in countries which spanned from South America to Asia, and everywhere in between.
To add to the cultural experience, a range of delicious food was served up in the school's 'World Café'. The children eagerly tucked in to treats which included Latvian rye bread, honey cake, Turkish Delight, and unusual fruits and veg. Many tried foods they had never eaten before.
Celebrating the diversity of the school community and Harlow, by the end of the day, the pupils had racked up an impressive amount of knowledge about the world we live in. We will continue to develop our pupils' curiosity and thirst for knowledge with more plans to provide life-enriching experiences throughout the rest of the year.