Pupils inspired by former international basketball player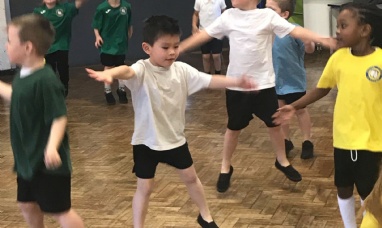 We were delighted to welcome former Team GB international basketball player, Pierre Henry-Fontaine, when he led a sponsored fitness challenge at our school.
As part of an initiative run by Sports for Champions to educate and empower children to become 'Champions for Tomorrow', Pierre took our pupils through a circuit of challenging and fun activities. Running, jumping, and generally having a whale of a time, pupils enthusiastically tried moves which included burpees, star jumps, and even the plank.
Afterwards, Pierre inspired the children with the story of his journey towards becoming a professional basketball player, which culminated in him representing Great Britain in international competitions. The children listened intently as they heard about the food groups that make up a balanced diet, and why it's important to eat well and lead a healthy lifestyle. Then came the chance to ask questions. These ranged from 'how long does it take to get perfect at jumping that high?' to 'what inspires you to keep playing basketball?'
The event raised funds which will go towards training athletes and high-quality PE equipment for the school. Harriet in Year 3 raised £100, Kai (Year 1), raised £88.10, Faith and Anthony raised £130 and Lexie and Gracie also raised £130. Every child participated, and thanks to their amazing fundraising efforts and generosity of the school community, a staggering £2,518.70 was raised in total.
Deputy Headteacher, Kath Holland said: 'It was great to participate in all the physical activities and hear the inspirational speech that Pierre delivered to our children. The event encouraged them to fulfil their dreams through hard work and passion and recognise that mistakes can be learning opportunities.'